FA4407-18-R-0004: Repair Various Building Systems COMM Facility; Building 861; Scott AFB, ILBid Due Date: Tuesday , 08/07/2018 at 04:00 pm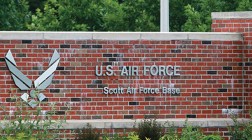 Amendment 06 (revised Attachment 21 - FRI Log 27 July 2018 & Incorporate Attachment 27 - B861 CAD Files) added on 7/31.
Amendment 05 (revised RFI log Attachment #21, added Attachment #26, Revised Schedule B, CLIN 1007, changed bid & RFI date) added on 7/31
*RFIs due to ABBA by Wednesday, 7/31 no later than 4pm EST.*
Amendment 04 added and bid date changed on 7/20.
RFIs due to ABBA by Tuesday, 7/24 by 4pm EST | 3p CST
Site visit photos & Amendement 03 (revised SOW & bid form) added on 7/16.
RFIs due to ABBA Construction no later than Wednesday, July 18 by 12pm EST.
Site visit is on Thursday, July 12th @ 1p CST. Please let us know if you need base access.
Location: Scott AFB, Illinois
Scope: The project consists of two parts, Bid-Build and Design-Build. The Bid-Build is the repair/replacement of the HVAC system and is indicated on the construction plans provided. It also includes a portion of asbestos and termite damage repair. The Design-Build portion is to renovate the east and west restrooms, upgrade portions of the fire sprinkler system, and correct the remaining termite damage not covered in the 100% design. The project is phased according to bid build plans; ignore phasing on 100% design. Any furniture relocated to accommodate construction will be responsibility of contractor as well as putting furniture back in place and reconnecting necessary COMM lines when project is completed.

Login to view files
Register as a New Vendor.