RFP 17-21 Repair Fire Suppression, B40; Scott AFB, ILBid Due Date: Friday , 09/15/2017 at 05:00 pm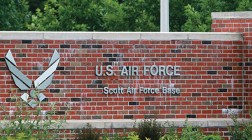 Amendment 05 (bid due date changed & revised SOW) added on 9/13.
Amendment 04 (6 documents, 1 zip file) added on 9/7.
Amendment 03 added on 9/6.
Amendment 02 added on 8/23.
RFIs due to ABBA Construction no later than Friday, Sept. 1 by 12pm EST.
Pricing on estimates need to be valid through Sept. 30, 2017.
Scope:
Design/Build
Demo existing fire detection devices & fire alarm control
Install new pipe fire suppression system
Install mass notification system
Install pump components
Install Sprinkler heads
Install PIV
Post installation testing

Login to view files
Register as a New Vendor.